No Matter Your Security Training Need, Plantation has Invictus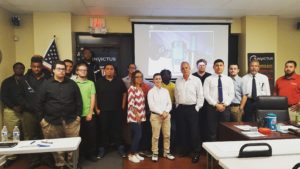 The quickly expanding security field of Plantation needs qualified security licensees to fill it! At Invictus Security & Firearms Training, Plantation residents can find the state mandated 40 hour security course to earn their unarmed Class D security license, or the 28 hour instructional firearms course to get an armed security Class G license. Our classes are all led by veterans of the military or local law enforcement, bringing their decades of combined experience to students so they can best learn the tools of the trade. We believe safety is the first part of security, and true safety only comes with training and practice- we verify that all of our graduates are prepared for whatever their future may bring. Invictus graduates make us proud every day, filling positions in all the companies of South Florida, and Plantation residents sleep safe at night thanks to our security professionals!
Ask About Plantation Class Discounts!
As the initial investment for security training and certifications can be high, we hope to work with our students to get enrolled with as much ease as possible. If you choose to take two or more of our courses, we offer an enrollment bundle discount on the courses. We also offer referral discounts!
With all the courses we offer, the time is right to enroll with the Plantation Invictus Security & Firearms Training security school. Whether you need our unarmed security training, or our firearms training in the armed security training classes, get in touch with us to learn about your options.
Contact us on our website, or call us at 954-271-0138 to learn more. We currently offer our services to residents of Pembroke Pines, Fort Lauderdale, Sunrise, Hollywood, Pompano Beach, Coral Springs, Deerfield Beach, Davie, Miramar, Lauderhill, Dania Beach, Coconut Creek, Weston, Hallandale, and Tamarac.
Invictus Security & Firearms Training Location
Location
Invictus Security & Firearms Training
7100 Pines Blvd Suite 25
Pembroke Pines, FL 33024
954-637-3079
Hours
Monday 8AM–6:30PM
Tuesday 8AM–6:30PM
Wednesday 8AM–6:30PM
Thursday 8AM–6:30PM
Friday 8AM–6:30PM
Saturday 8AM–6:30PM
Sunday 8AM–6:30PM