The Tamarac Invictus Security & Firearms Training Offers Exciting Classes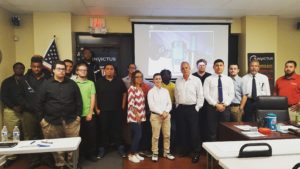 To become a licensed security professional in the state of Florida, you must first take and pass a 40 hour security school course. The most exciting and engaging course in the area is only offered by the Tamarac Invictus Security & Firearms Training. By using veterans of the industry, with backgrounds in the military and law enforcement, our licensed instructors can show students the realistic challenges security professionals face no matter what route they take. We work to exceed all state standards, emphasizing further training and education, and most importantly, safety. Security is a huge field in the area, and there's never been a better time for Tamarac residents to get their license and join this bustling industry. Contact us right away to learn more, ask about our bundle discount offers, and get enrolled in one of our acclaimed courses now!
Sign up right away for Tamarac Class Discounts!
Contact us on our website, or call us at 954-271-0138 to learn more. We currently offer our services to residents of Pembroke Pines, Fort Lauderdale, Sunrise, Hollywood, Pompano Beach, Coral Springs, Plantation, Deerfield Beach, Davie, Miramar, Lauderhill, Dania Beach, Coconut Creek, Weston, and Hallandale.
Invictus Security & Firearms Training Location
Location
Invictus Security & Firearms Training
7100 Pines Blvd Suite 25
Pembroke Pines, FL 33024
954-637-3079
Hours
Monday 8AM–6:30PM
Tuesday 8AM–6:30PM
Wednesday 8AM–6:30PM
Thursday 8AM–6:30PM
Friday 8AM–6:30PM
Saturday 8AM–6:30PM
Sunday 8AM–6:30PM