Dania Beach Invictus Security & Firearms Training- Top Destination for Class D Licenses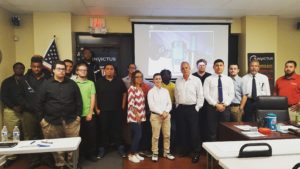 The only high quality security school for Dania Beach residents is Invictus Security & Firearms Training. With a decade of preparing the best of Florida's security professionals, both unarmed and armed security services, Invictus graduates make up the highest cut of Dania security workers. Our security guard training puts licensed firearms instructors, each with years of experience in the military or law enforcement, in touch with students for hands on, individual security training to prepare them for the varied security field they're joining. We believe safety is the first part of security, and work hard to drill all the most helpful training into the heads of every one of our graduates. All the top companies in Dania know that Invictus Security & Firearms Training graduates are the best of the best, and constantly work to hire directly out of our class D training course every Thursday. Contact us now to ask about our bundle pricing options and how to enroll in one of our excellent courses.
Ask About Dania Beach Class Discounts!
Contact us on our website, or call us at 954-271-0138 to learn more. We currently offer our services to residents of Pembroke Pines, Fort Lauderdale, Sunrise, Hollywood, Pompano Beach, Coral Springs, Plantation, Deerfield Beach, Davie, Miramar, Lauderhill, Coconut Creek, Weston, Hallandale, and Tamarac.
Invictus Security & Firearms Training Location
Location
Invictus Security & Firearms Training
7100 Pines Blvd Suite 25
Pembroke Pines, FL 33024
954-637-3079
Hours
Monday 8AM–6:30PM
Tuesday 8AM–6:30PM
Wednesday 8AM–6:30PM
Thursday 8AM–6:30PM
Friday 8AM–6:30PM
Saturday 8AM–6:30PM
Sunday 8AM–6:30PM