Deerfield Beach Security Class D and Class G Training Courses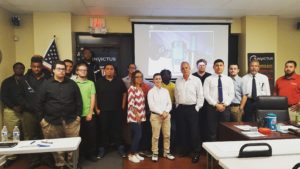 The state of Florida is in need of highly trained security professionals for the needs of all of south Florida, Deerfield Beach included. The state requires anybody seeking to serve in any capacity of a security individual must take a 40 hour security course to certify in a Class D security license. At Deerfield Beach's Invictus Security & Firearms Training, we spend every day of the week training prospective security professionals the ins and outs of the industry. We work to teach access control, physical security needs, aggression management, use of force, CPR/AED certification, and more. Each of our engaging instructors have a background in the industry, starting as veterans of the military of law enforcement, with additional experience in security. Along with this basic security course, our Deerfield location offers students firearms training so that they can acquire a Class G armed security license. Invictus' name is one of high reputation, and employers know our graduates are the best of the best. Contact us now to learn about our unarmed or armed security courses, our non-lethal certifications, or our cutting edge executive protection courses!
Sign up right away for Deerfield Beach Class Discounts!
We offer competitive pricing for all of our security training courses at our Deerfield Beach location. The Deerfield Invictus Security & Firearms Training wants every student to have easy access to our renowned security training curriculum, whether you want our unarmed security training class or the armed security training for your Class G security license. We can also offer you bundle discounts on our security training courses, from the Class D or G security training courses, our non-lethal security options, basic first aid, CPR/AED certification, our executive protection training, or our personal protection service security training. 
Contact us on our website, or call us at 954-271-0138 to learn more. We currently offer our services to residents of Pembroke Pines, Fort Lauderdale, Sunrise, Hollywood, Pompano Beach, Coral Springs, Plantation, Davie, Miramar, Lauderhill, Dania Beach, Coconut Creek, Weston, Hallandale, and Tamarac.
Invictus Security & Firearms Training Location
Location
Invictus Security & Firearms Training
7100 Pines Blvd Suite 25
Pembroke Pines, FL 33024
954-637-3079
Hours
Monday 8AM–6:30PM
Tuesday 8AM–6:30PM
Wednesday 8AM–6:30PM
Thursday 8AM–6:30PM
Friday 8AM–6:30PM
Saturday 8AM–6:30PM
Sunday 8AM–6:30PM