The Invictus Security and Firearms Training Hollywood Academy is the Premier Location for Security Training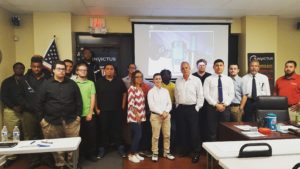 For those looking to join the ever-expanding security field of Hollywood there is nobody close to Invictus Security and Firearms Training for your training needs. Our training academy is unmatched when it comes to unarmed or armed security classes, so that residents of Hollywood can work hard and earn their Class D or Class G security license. Each of our security instructors or firearms instructors are veterans of the US Military or US law enforcement, bringing life experience and real-life scenarios of the business to each of our students, guaranteeing practical and unmatched training. Each of our classes comes with job placement assistance, provided by top recruiters of all the top security field companies in south Florida- Invictus' reputation is so strong that recruiters come into our classes and hire students before they even graduate! Call us now to ask about each of our cutting edge courses and learn about bundle pricing options.
Step Up for Hollywood Class Discounts!
We know that beginning your journey into the world of the security industry can be demanding and expensive. We at the Hollywood Invictus Security & Firearms Training location will work with you to offer bundled courses and discounts to help you get where you need to be. After you take your initial unarmed security training course for your Class D security license, you can enroll in our excellent 28 hour firearms and armed security training class, non-lethal training options, basic first aid, CPR/AED certification, and more. 
Contact us on our website, or call us at 954-271-0138 to learn more. We currently offer our services to residents of Pembroke Pines, Fort Lauderdale, Sunrise, Pompano Beach, Coral Springs, Plantation, Deerfield Beach, Davie, Miramar, Lauderhill, Dania Beach, Coconut Creek, Weston, Hallandale, and Tamarac.
Invictus Security & Firearms Training Location
Location
Invictus Security & Firearms Training
7100 Pines Blvd Suite 25
Pembroke Pines, FL 33024
954-637-3079
Hours
Monday 8AM–6:30PM
Tuesday 8AM–6:30PM
Wednesday 8AM–6:30PM
Thursday 8AM–6:30PM
Friday 8AM–6:30PM
Saturday 8AM–6:30PM
Sunday 8AM–6:30PM