Both Class D and Class G Training are Offered at the Lauderhill Invictus Security & Firearms Training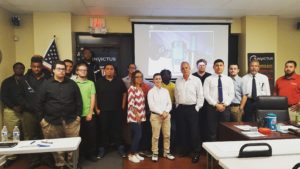 Lauderhill has seen a massive rise in the needs for trained security professionals, from access control, community patrol, and even armed transport. With such a high employment opportunity available, it is the best time to get a state license to act as a security guard. The state of Florida mandates that anybody seeking to work as a security professional earn and maintain a Class D security license, and a Class G security license if their post is an armed one. At Lauderhill Invictus Security & Firearms Training, we spend every day training our students in the most crucial aspects of the security industry. Our unarmed course offers CPR/AED first aid training and certifications, access control, physical security, terrorism awareness, report taking, and more; our armed Class G security course offers the only hands-on dry-fire mechanical firearm training in the state, with our experienced firearms instructors teaching each student (from beginner to veteran) how to properly perform a four-step draw and score high on the proficiency exam. Contact us now to learn more about our course offerings and how to get started today.
Call Us For the Lauderhill Class Schedule!
Each of our Invictus Security & Firearms Training security school locations, including our Lauderhill academy, are open seven days a week to help out security students. Feel free to get in touch with us to ask about any of our upcoming courses, whether you are interested in your first unarmed security training course, our firearms training, marksmanship and proficiency instruction, the twenty-eight hour armed security training course for a Class G armed security license, or even our basic first aid training! Call us, or send us an email now, and we'd be happy to get you enrolled in the Lauderhill Invictus today.
Contact us on our website, or call us at 954-271-0138 to learn more. We currently offer our services to residents of Pembroke Pines, Fort Lauderdale, Sunrise, Hollywood, Pompano Beach, Coral Springs, Plantation, Deerfield Beach, Davie, Miramar, Dania Beach, Coconut Creek, Weston, Hallandale, and Tamarac.
Invictus Security & Firearms Training Location
Location
Invictus Security & Firearms Training
7100 Pines Blvd Suite 25
Pembroke Pines, FL 33024
954-637-3079
Hours
Monday 8AM–6:30PM
Tuesday 8AM–6:30PM
Wednesday 8AM–6:30PM
Thursday 8AM–6:30PM
Friday 8AM–6:30PM
Saturday 8AM–6:30PM
Sunday 8AM–6:30PM