The Only Place for Security Training in Hallandale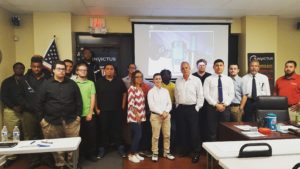 To get a security license in Florida is one thing- to get the best training is another entirely. At Invictus Security & Firearms Training Hallandale students learn more than any other security school can teach in the state mandated 40 hour course, with our licensed instructors using their combined decades of in-the-field experience to engage students one-on-one in learning the ins and outs of security. We work day in and day out to give our students the tools and training necessary to succeed and help their communities, from basic first aid to firearms training, so Hallandale has the best security in the industry. Hallandale Invictus Security Training is so well-renowned, that we provide job placement assistance – recruiters from all the top security companies come into our classes and hire students before they even graduate. Contact us now to enroll and learn more about a future in the security field.
Ask About Hallandale Security Class Discounts!
Contact us on our website, or call us at 954-271-0138 to learn more. We currently offer our services to residents of Pembroke Pines, Fort Lauderdale, Sunrise, Hollywood, Pompano Beach, Coral Springs, Plantation, Deerfield Beach, Davie, Miramar, Lauderhill, Dania Beach, Coconut Creek, Weston, and Tamarac.
Invictus Security & Firearms Training Location
Location
Invictus Security & Firearms Training
7100 Pines Blvd Suite 25
Pembroke Pines, FL 33024
954-637-3079
Hours
Monday 8AM–6:30PM
Tuesday 8AM–6:30PM
Wednesday 8AM–6:30PM
Thursday 8AM–6:30PM
Friday 8AM–6:30PM
Saturday 8AM–6:30PM
Sunday 8AM–6:30PM