Why Choose Invictus Security & Firearms Training Miramar for Your Needs?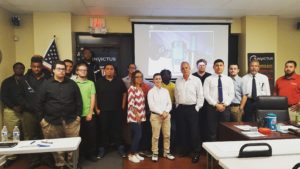 Anybody in the security industry has seen the job opportunities in Miramar rise over the last decade. The only way to join this thriving community is to take a certified 40 hour security course and earn a Florida Class D security license. At Miramar Invictus Security & Firearms Training, we go above and beyond the typical state mandates, giving experienced and realistic training to each of our students in cutting edge courses. Our licensed firearms instructors guide students through unarmed training, firearms training, CPR/AED certification, non-lethal training, and more every week. Being a graduate of Invictus Security & Firearms Miramar means that you will be a cut above the rest, an applicant any security company would hire before another competitor. Feel free to give us a call any time to ask about our bundle pricing options, information about our Class D or Class G license classes, or to enroll now!
Sign up right away for your first Miramar Class!
When enrolling in Invictus Security & Firearms Training, we make sure to give you options on classes, and discounts – taking two or more classes gets you a bundle discount, you can refer friends to knock off part of the enrollment, and we offer social media discounts as well! After being part of our Miramar security school, you will be enrolled in our job placement and employment assistance programs, so that we can introduce you to the top recruiters in the Miramar area. The Invictus Security & Firearms Training family works hard to make sure all of our graduates feel happy and excel in their career paths.
Contact us on our website, or call us at 954-271-0138 to learn more. We currently offer our services to residents of Pembroke Pines, Fort Lauderdale, Sunrise, Hollywood, Pompano Beach, Coral Springs, Plantation, Deerfield Beach, Davie, Lauderhill, Dania Beach, Coconut Creek, Weston, Hallandale, and Tamarac.
Invictus Security & Firearms Training Location
Location
Invictus Security & Firearms Training
7100 Pines Blvd Suite 25
Pembroke Pines, FL 33024
954-637-3079
Hours
Monday 8AM–6:30PM
Tuesday 8AM–6:30PM
Wednesday 8AM–6:30PM
Thursday 8AM–6:30PM
Friday 8AM–6:30PM
Saturday 8AM–6:30PM
Sunday 8AM–6:30PM