Davie Has Invictus Security & Firearms Training for All Their Licensing Goals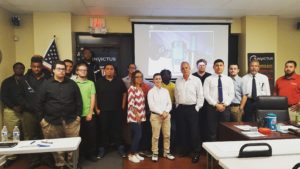 We know that finding a reputable security training academy can be a challenge, but anybody who knows Invictus Security & Firearms Training Davie knows that we cannot be beaten. Whether you are seeking a Class D, Class G license, non-lethal certification, CPR/AED cards, or executive protection/personal protection services, there's no second to our training courses. We will give each of our students our trademark hands-on curriculum to show them every minute aspect of the varied security industry, showing them how use of force works, simple things like access control, laws regarding first aid and protection, and more. Contact us now to learn more about enrolling in the many Davie courses that can be the difference between a prosperous security career or an unprepared nightmare!
Ask Us More About Davie Courses!
Security schools across the state sometimes offer underwhelming, and minimalistic, security training courses. Our curriculum is overflowing with instruction – we at Invictus Security & Firearms Training know there is no such thing as too much training. In our unarmed security training course, students will learn access control, security technologies, crowd control, security measures for residential and commercial areas, situational awareness, terrorism awareness, report writing, note taking, basic first aid, and more – all in our introductory course!
Contact us on our website, or call us at 954-271-0138 to learn more. We currently offer our services to residents of Pembroke Pines, Fort Lauderdale, Sunrise, Hollywood, Pompano Beach, Coral Springs, Plantation, Deerfield Beach, Miramar, Lauderhill, Dania Beach, Coconut Creek, Weston, Hallandale, and Tamarac.
Invictus Security & Firearms Training Location
Location
Invictus Security & Firearms Training
7100 Pines Blvd Suite 25
Pembroke Pines, FL 33024
954-637-3079
Hours
Monday 8AM–6:30PM
Tuesday 8AM–6:30PM
Wednesday 8AM–6:30PM
Thursday 8AM–6:30PM
Friday 8AM–6:30PM
Saturday 8AM–6:30PM
Sunday 8AM–6:30PM