Working Security in Weston , Unarmed or Armed, Requires Great Training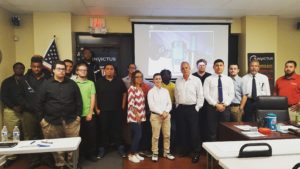 The state of Florida's Department of Agriculture handles all security licensing, and this Department of Licensing requires that security professionals must take and pass a 40 hour course to meet state standards. At the Weston Invictus Security & Firearms Training, we have our experienced and engaging security instructors teach a constantly updating curriculum that exceeds these standards. The security school of choice for all the top paying security companies, Weston Invictus has a security D license security course that prepares students for every possible situation in an entry level security position, our licensed instructors mixing combined decades of career experience (military and law enforcement) so students get a realistic insight to the world they're entering. Our firearms training, offered every weekend, assures any student seeking a class G security license that they will be prepared, knowledgeable, and safe. Contact us now to learn more about Weston Invictus' bundle options!
Enroll Now for Weston Class Discounts!
Contact us on our website, or call us at 954-271-0138 to learn more. We currently offer our services to residents of Pembroke Pines, Fort Lauderdale, Sunrise, Hollywood, Pompano Beach, Coral Springs, Plantation, Deerfield Beach, Davie, Miramar, Lauderhill, Dania Beach, Coconut Creek, Hallandale, and Tamarac.
Invictus Security & Firearms Training Location
Location
Invictus Security & Firearms Training
7100 Pines Blvd Suite 25
Pembroke Pines, FL 33024
954-637-3079
Hours
Monday 8AM–6:30PM
Tuesday 8AM–6:30PM
Wednesday 8AM–6:30PM
Thursday 8AM–6:30PM
Friday 8AM–6:30PM
Saturday 8AM–6:30PM
Sunday 8AM–6:30PM