Why is Invictus the Best Security School for Homestead Residents?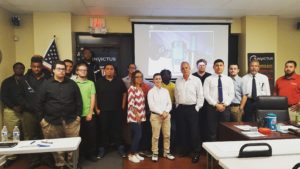 Invictus Security & Firearms training cannot be beat when it comes to world class Homestead based security courses. We offer daily classes for students looking to get into the security industry, with cutting edge unarmed security courses all week long. On weekends, Invictus Security & Firearms Training connects the best firearms instructors in the area with students for our acclaimed armed security courses to train Class G license security professionals.
Homestead Security Field is Expanding
At our cutting edge security training center, Homestead students can expect to learn everything they need to get into the security field. We hire only veterans or ex law enforcement officers as our security instructors, so that our unarmed and armed classes are all of the top quality in the area. Homestead has always appreciated our training above our competitors, such that top recruiters from Florida companies come directly to our academy and hire students right out of their seats.
Contact us on our website, or call us at 954-637-3079 to learn more. We currently offer our services to residents of Miami, Miami Gardens, Miami Beach, Miami Lakes, North Miami, Hialeah, Kendall, Doral, Coral Gables, Cutler Bay, Aventura, Palmetto Bay, Pinecrest, Opa-Locka, Tamiami, and Pembroke Pines
Sign up right away for Homestead  Class Discounts!
Invictus Security & Firearms Training Location
Location
Invictus Security & Firearms Training
7100 Pines Blvd Suite 25
Pembroke Pines, FL 33024
954-637-3079
Hours
Monday 8AM–6:30PM
Tuesday 8AM–6:30PM
Wednesday 8AM–6:30PM
Thursday 8AM–6:30PM
Friday 8AM–6:30PM
Saturday 8AM–6:30PM
Sunday 8AM–6:30PM