Security Training Miami Gardens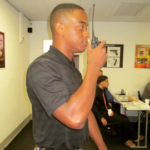 Invictus is the best recognized security guard training in Miami Gardens, Florida. Our security school prepares our students with the skills needed to become a security officer. The security license is required in the state to work security services and regulated by the Florida Division of Licensing. To work as unarmed security officer you must obtain the Florida security D license. To work armed security in Miami Gardens, the Security D and the armed security license are both required.
Our security instructors are all Military Veterans and Law Enforcement professionals who bring decades of real world experience to students. Learn more about our security guard classes today.
Miami Gardens Security School Registration
How to become a Security Guard in Miami Gardens
Becoming a security guard requires students to complete 40 hours of security training at a licensed school. The security course  is conducted over a 4 day period. At our Miami Gardens security training school students have the option to bundle the security class with the American Heart Association CPR/AED Certification. The CPR certification and training gives security officers a better chance of employment with the local security companies in Miami.
Armed Security Training 
Armed security guards are required to receive 28 hours of firearms training to be eligible for the armed security gun license. Then they must successfully complete the armed security training and range qualification. The Class G License requires a 28 hour gun class provided by a licensed K Firearms Instructor that covers Marksmanship, Safety, Gun Laws and is provided weekly at our armed security school. Students who complete the gun class  will also be eligible for the concealed weapons license. Contact us today for more information about our gun training programs. 
Miami Gardens Security School Location
Invictus security training school is driving distance from Miami Gardens, and we have other locations throughout Florida. Our security school covers Miami Dade County and the following surrounding Cities: Miami, Hialeah, Miami Beach, Kendall, Homestead, North Miami, Doral, Coral Gables, Cutler Bay, Aventura, Miami Lakes, Palmetto Bay, Pinecrest, Opa-locka, Tamiami.
To attend the Invictus Security Guard Training in Miami you must register on our website and choose the courses you would like to attend. Invictus Security offers discounts and bundle packages to students as well as tuition assistance through various scholarship programs. Register today to start your security guard training in Miami Gardens today!
Attention: The internal data of table "1" is corrupted!