Security Training School in Miami, Florida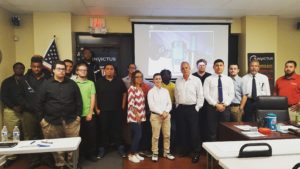 Invictus Security & Firearms Training represents the absolute best security training in North Miami and the rest of South Florida. We consistently train our students, drilling them on safety and security above all else, so that we put out excellence in security professionals. Our reputation guarantees your employment upon graduations- top companies actively seek out Invictus graduates for high demand job placement and employment opportunities. Whether looking for a Class D license, or to receive the high end firearms training we give to those working towards an armed Class G security license, you can always count on Invictus for the best security training around.
North Miami Security Training for Security Professionals
At the North Miami Invictus Security & Firearms Training, we provide competitive pricing on our many courses, including our unarmed and armed security courses, CPR and AED certification and cards, our non-lethal security training, and more. Each of our North Miami licensed instructors is a veteran of the United States military or an ex-member of local law enforcement, guaranteeing Invictus graduates the real life experience, taught in a one-on-one setting so students gain insight to the security industry. This first hand background mixes with our dynamic curriculum, always working to make our North Miami students confident and prepared for their futures.
Contact us on our website, or call us at 954-637-3079 to learn more. We currently offer our services to residents of Miami, Miami Gardens, Miami Beach, Miami Lakes, Hialeah, Kendall, Homestead, Doral, Coral Gables, Cutler Bay, Aventura, Palmetto Bay, Pinecrest, Opa-Locka, Tamiami, and Pembroke Pines
Sign Up Now for North Miami Class Discounts!
Invictus Security & Firearms Training Location
Location
Invictus Security & Firearms Training
7100 Pines Blvd Suite 25
Pembroke Pines, FL 33024
954-637-3079
Hours
Monday 8AM–6:30PM
Tuesday 8AM–6:30PM
Wednesday 8AM–6:30PM
Thursday 8AM–6:30PM
Friday 8AM–6:30PM
Saturday 8AM–6:30PM
Sunday 8AM–6:30PM