Tamiami Security Training Courses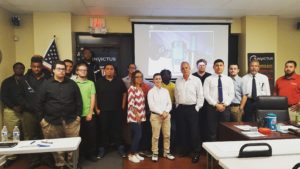 Tamiami Invictus Security & Firearms provides the best security classes for anybody interested in joining the rapidly expanding security industry of south Florida. If you want to work as a security officer anywhere in Tamiami or Florida in general, you are required by the Department of Agriculture to earn and maintain a Class D security license- if you want to work armed, you also need to work with a Class G armed security license. We don't simply give students the state standards, we train them to exceed and give you job opportunities before you even graduate our courses.
What Makes Invictus the Best for Tamiami Students?
Invictus Tamiami continues to be recognized as the #1 security training school, where we bring top company recruiters into our classes to get students job opportunities before they even graduate. Invictus graduates are recognized as the best trained security professionals in Tamiami because of our curriculum and instructors, who give practical training in emergency care, in-depth and hands-on firearms training, and every minor aspect of the security industry. We want our security professionals trained, confident, and prepared for whatever the future may bring.
Contact us on our website, or call us at 954-637-3079 to learn more. We currently offer our services to residents of Miami, Miami Gardens, Miami Beach, Miami Lakes, North Miami, Hialeah, Kendall, Homestead, Doral, Coral Gables, Cutler Bay, Aventura, Palmetto Bay, Pinecrest, Opa-Locka, and Pembroke Pines.
Sign up right away for  Class Discounts!
Invictus Security & Firearms Training Location
Location
Invictus Security & Firearms Training
7100 Pines Blvd Suite 25
Pembroke Pines, FL 33024
954-637-3079
Hours
Monday 8AM–6:30PM
Tuesday 8AM–6:30PM
Wednesday 8AM–6:30PM
Thursday 8AM–6:30PM
Friday 8AM–6:30PM
Saturday 8AM–6:30PM
Sunday 8AM–6:30PM