We Off Class D and Class G Security Classes in Palmetto Bay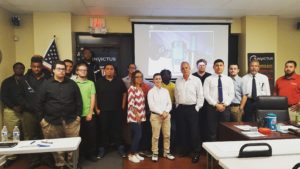 Are you looking for exciting employment opportunities in Palmetto Bay but don't know where to start? Curious to become a security officer and take part in the expanding security industry of Palmetto Bay and south Florida? Come to Invictus Security & Firearms Training, where we offer cutting edge training and security courses, no matter the need. We exceed state requirements for both the Class D security license training and armed Class G firearms training. There's no better security academy than Invictus Palmetto Bay to fulfill your security needs.
Palmetto Bay Invictus is the Destination for All Security Training
We offer our dynamic Palmetto Bay courses every day of the week, connecting our veteran licensed instructors with rising security professionals. Even if you've been a firearms expert for decades, we guarantee exciting hands on training for our G course students. No other academy in the state offers hands on, mechanical dry-fire training before the live range proficiency exam; we believe safety and security come first, for our Palmetto Bay students and the community we hope they will one day serve.
Contact us on our website, or call us at 954-637-3079 to learn more. We currently offer our services to residents of Miami, Miami Gardens, Miami Beach, Miami Lakes, North Miami, Hialeah, Kendall, Homestead, Doral, Coral Gables, Cutler Bay, Aventura, Pinecrest, Opa-Locka, Tamiami, and Pembroke Pines.
Sign up right away for  Class Discounts!
Invictus Security & Firearms Training Location
Location
Invictus Security & Firearms Training
7100 Pines Blvd Suite 25
Pembroke Pines, FL 33024
954-637-3079
Hours
Monday 8AM–6:30PM
Tuesday 8AM–6:30PM
Wednesday 8AM–6:30PM
Thursday 8AM–6:30PM
Friday 8AM–6:30PM
Saturday 8AM–6:30PM
Sunday 8AM–6:30PM