Invictus Security & Firearms Training's Opa-Locka Security Academy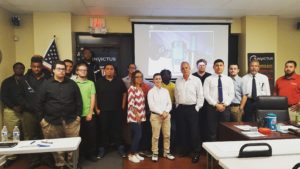 Looking for a convenient, nearby location for your security training needs in the Opa-Locka area? Good news- Invictus Security & Firearms training, the top rated and favorite of south Florida, now offers daily security training for Opa-Locka students! Our in-depth training curriculum prepares you for the expanding security field of Opa-Locka that seems to have endless job opportunities waiting for you. Contact us today to learn about our unarmed and armed security courses, our non-lethal certifications, and ask about our bundle options!
About Our Opa-Locka Security Licensing Courses
Our Opa-Locka Invictus location is brimming with security training options, from the rising security officer who needs their required Class D security license to recertifying the annual Class G armed security license, and non-lethal training options as well. We look to showcase the importance of security, awareness, and continued education of all security professionals- no other security school goes so in-depth or hands on with every detail of the security field.
Contact us on our website, or call us at 954-637-3079 to learn more. We currently offer our services to residents of Miami, Miami Gardens, Miami Beach, Miami Lakes, North Miami, Hialeah, Kendall, Homestead, Doral, Coral Gables, Cutler Bay, Aventura, Palmetto Bay, Pinecrest, Tamiami, and Pembroke Pines.
Sign up A.S.A.P. for Opa-Locka Course Discounts!
Invictus Security & Firearms Training Location
Location
Invictus Security & Firearms Training
7100 Pines Blvd Suite 25
Pembroke Pines, FL 33024
954-637-3079
Hours
Monday 8AM–6:30PM
Tuesday 8AM–6:30PM
Wednesday 8AM–6:30PM
Thursday 8AM–6:30PM
Friday 8AM–6:30PM
Saturday 8AM–6:30PM
Sunday 8AM–6:30PM