Invictus Security & Firearms Training's Aventura Academy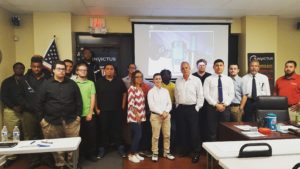 Any Aventura residents looking to enter the booming Aventura security industry need look no further than Invictus Security & Firearms Training for world class security training courses. At Aventura Invictus, students can expect to receive our cutting edge curriculum from experienced veterans and ex law enforcement instructors. Each of our many courses help students learn everything for certification and to acquire the confidence necessary to be a skilled security professional. We aim to train Aventura security officers to be the best of the best, and can't wait to meet you in one of our daily courses.
Our Aventura Location Offers Multiple Courses
For students aiming to get security training, we continue to offer an excellent unarmed and armed training curriculum. If you're looking to get the necessary information to get the Class D security license, or the firearms training needed for a Class G armed license, look no further. We also offer CPR, AED, non-lethal training, and more! Contact us now for bundle options.
Contact us on our website, or call us at 954-637-3079 to learn more. We currently offer our services to residents of Miami, Miami Gardens, Miami Beach, Miami Lakes, North Miami, Hialeah, Kendall, Homestead, Doral, Coral Gables, Cutler Bay, Palmetto Bay, Pinecrest, Opa-Locka, and Tamiami.
Contact us now for Aventura Class Discounts!
Invictus Security & Firearms Training Location
Location
Invictus Security & Firearms Training
7100 Pines Blvd Suite 25
Pembroke Pines, FL 33024
954-637-3079
Hours
Monday 8AM–6:30PM
Tuesday 8AM–6:30PM
Wednesday 8AM–6:30PM
Thursday 8AM–6:30PM
Friday 8AM–6:30PM
Saturday 8AM–6:30PM
Sunday 8AM–6:30PM