New and Returning Largo Security Professionals Always Choose Invictus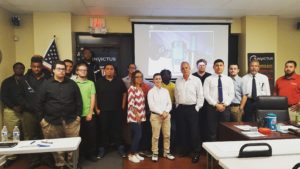 With the security industry of Largo getting busier than ever before, there has never been a better time to enroll in security license training. There is no more qualified or engaging training option in all of Pinellas County than the Largo Invictus Security & Firearms Training affiliate, S2 Safety & Intelligence Institute. At our academy, up and coming security professionals will learn every aspect of security, including first aid, terrorism awareness, access control, regulations and laws regarding use of force, and firearms safety. With a set of the best instructors in the state, bringing with them combined decades of relevant experience, graduates of the Largo academy will quickly find themselves at the top of the field. Contact us now to learn more about enrollment and how we can work with you to earn your security licenses!
Sign up right away for Largo Class Discounts!
Students of Invictus Security & Firearms Training and S2 Safety & Intelligence Institute can expect nothing but the best. Our renown is earned through our decade of providing Largo and the rest of Florida with world-class security training. We work hard to provide safe and secure professionals for the smallest Largo residential neighborhood, all the way to international humanitarian security services. Our graduates will represent the best security has to offer, and our Largo location is no exception.
Contact us on our website, or call us at 813-227-8585 to learn more. We currently offer our services to residents of Tampa, St. Petersburg, Clearwater, Pinellas Park, Plant City, and Lakeland.
Invictus Security & Firearms Training Location
Invictus Affiliate School 
7402 N 56th St
Building 300, Suite 385
Tampa, FL 33617
Hours
Monday 8AM–6:30PM
Tuesday 8AM–6:30PM
Wednesday 8AM–6:30PM
Thursday 8AM–6:30PM
Friday 8AM–6:30PM
Saturday 8AM–6:30PM
Sunday 8AM–6:30PM