Security D License and Class G Security License Courses in Plant City Are Here!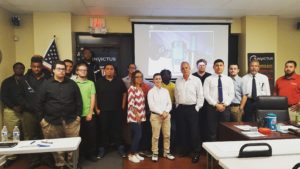 The complicated nature of the state of Florida's laws and regulations on security licenses make it difficult to find a good security academy. Invictus Security & Firearms Training has been well-renowned for the past decade, giving students across the Sunshine state access to only the best security training across the field. We know many students who come to us have no experience of any kind in security, so we hire only veterans of the United States military or law enforcement branches as our Plant City instructors. This insures that Invictus graduates will be given training by those who can mix real-life situations and experiences with our cutting edge curriculum, bringing one-on-one instruction to a usable degree. We want each Invictus graduate to have training, preparation, and confidence that they will keep Plant City safe and secure.
Ask About Plant City Course Discounts!
We offer great bundle options in Plant City on our Class D license training, armed Class G security courses, CCW, firearms training, CPR/AED certification, first aid, non-lethal training, and more!
Contact us on our website, or call us at 813-922-8657 to learn more. We currently offer our services to residents of Tampa, St. Petersburg, Clearwater, Largo, Pinellas Park, and Lakeland.
Invictus Security & Firearms Training Location
Invictus Affiliate School 
7402 N 56th St
Building 300, Suite 385
Tampa, FL 33617
Hours
Monday 8AM–6:30PM
Tuesday 8AM–6:30PM
Wednesday 8AM–6:30PM
Thursday 8AM–6:30PM
Friday 8AM–6:30PM
Saturday 8AM–6:30PM
Sunday 8AM–6:30PM