Pinellas Park Can Now Enjoy Invictus' Renowned Training Courses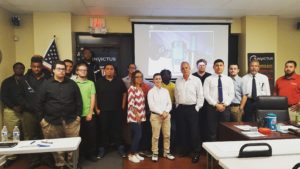 Invictus Security & Firearms Training and our Pinellas Park affiliate S2 Safety & Intelligence Institute are now bringing the best security training in the state to your Pinellas Park backyard. Whether you need unarmed Class D security license training or the firearms training to get an armed Class G security license, we are your Pinellas Park security academy destination. The state of Florida has strict regulations on what prospective security professionals need to learn in order to become licensed, and we offer in-depth and hands-on courses for all your requirements. At Invictus, we believe safety is the most important thing, so we engage our students with focused lessons and training in order to guarantee success. From first aid to access control and everything in between, our courses give the most analytic and detailed examinations of every aspect of the security industry. Our graduates leave our classrooms with knowledge, training, job interviews, and the potential to grow into the highest reaches of a career in the security field. Get in touch with us now so we can help you get started on your future today.
Pinellas Park Residents, Call Now for Class Discounts!
We offer Class D licensing, Class G licensing, CCW, First Aid, CPR/AED, and more courses.
Contact us on our website, or call us at 813-922-8657 to learn more. We currently offer our services to residents of Tampa, St. Petersburg, Clearwater, Largo, Plant City, and Lakeland.
Invictus Security & Firearms Training Location
Invictus Affiliate School 
7402 N 56th St
Building 300, Suite 385
Tampa, FL 33617
Hours
Monday 8AM–6:30PM
Tuesday 8AM–6:30PM
Wednesday 8AM–6:30PM
Thursday 8AM–6:30PM
Friday 8AM–6:30PM
Saturday 8AM–6:30PM
Sunday 8AM–6:30PM