Security Training Courses in St. Petersburg for Class D and Class G Licenses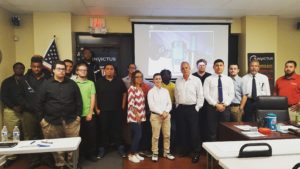 The security training academy everybody knows and loves is now operating in St. Petersburg so that even the most experienced security professional can come gain new training! Our St. Petersburg Invictus Security & Firearms location is an affiliate school, with the S2 Safety & Intelligence Institute, who use our cutting edge curriculum to bring you the best security license training in the business. Our unbeatable training helps new students learn every aspect of the security industry as they work to earn their Class D security license, or with veterans of the military and law enforcement in firearms safety so they can excel with a Class G armed security license. Learning safety is just as important as any Florida laws or first aid, so we drill into each Invictus graduate each possibility and how to handle every situation they may face. As any of our past students can tell you, training with us opens many doors for employment, as employers will go as far as to come into our classrooms and hire prospective security professionals before they even graduate! Contact us now to learn about each of our security training courses, ask about bundles, and get started in the security industry today!
Call now for St. Petersburg Class Discounts!
From our Class D security license training to our armed Class G license training, our CCW firearms certification to our CPR/AED training, there are many options and opportunities to be had at our Petersburg academy! Contact us right away to learn more.
Contact us on our website, or call us at 813-922-8657 to learn more. We currently offer our services to residents of Tampa,  Clearwater, Largo, Pinellas Park, Plant City, and Lakeland.
Invictus Security & Firearms Training Location
Invictus Affiliate School 
7402 N 56th St
Building 300, Suite 385
Tampa, FL 33617
Hours
Monday 8AM–6:30PM
Tuesday 8AM–6:30PM
Wednesday 8AM–6:30PM
Thursday 8AM–6:30PM
Friday 8AM–6:30PM
Saturday 8AM–6:30PM
Sunday 8AM–6:30PM