Invictus and S2 Come Together to Give Lakeland the Best Security Training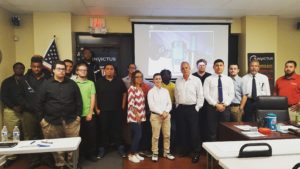 For over a decade, our Security & Firearms Training has delivered the best security license training courses to residents across Florida. Now, working with Lakeland S2 Safety & Intelligence Institute, Lakeland residents can get the training they've always dreamed of finding. With stricter regulations and mandates on the State of Florida security licensing, it is hard for students to always find the preparation they need to feel safe in the bustling security industry. Our Lakeland instructors have combined decades of experience in the military and law enforcement so that we can bring each of our students a set of real-world and practical application lessons in the field. By engaging our students individually and helping them understand each detail from first aid to access control, we ensure our Lakeland graduates are prepared to succeed in their career. Contact us now to learn more about our many courses and how you can get started today.

Lakeland Students Call for Class Discounts!
We happily offer Lakeland students Class D License, Class G License training, unarmed and armed security classes, CPR and AED certification, first aid, and more.
Contact us on our website, or call us at 813-358-8505 to learn more. We currently offer our services to residents of Tampa, St. Petersburg, Clearwater, Largo, Pinellas Park, and Plant City.

Invictus Security & Firearms Training Location
Invictus Affiliate School 
7402 N 56th St
Building 300, Suite 385
Tampa, FL 33617
Hours
Monday 8AM–6:30PM
Tuesday 8AM–6:30PM
Wednesday 8AM–6:30PM
Thursday 8AM–6:30PM
Friday 8AM–6:30PM
Saturday 8AM–6:30PM
Sunday 8AM–6:30PM