Invictus Security Now in Clearwater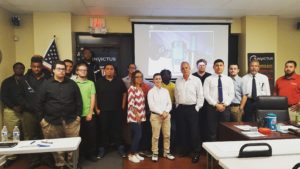 The famed Invictus Security & Firearms Training curriculum is finally in Clearwater so that everybody has access to the best security training around. The state of Florida has strict regulations on what individuals must do to certify and earn a security license (both unarmed Class D security licenses or the armed Class G security license), and it is important that you receive the best training available when you enter this field. For a decade, Invictus has brought Florida residents the best, and now working with the Clearwater S2 Safety & Intelligence Institute, students can receive instruction on every individual aspect of the security industry. Starting with Florida laws and regulations, students move through a variety of instructional lessons, on crowd control and first aid, perimeters and access control, and even our cutting edge firearms training. Our instructors bring combined decades of relevant experience, so that when they work one-on-one with our students, they ensure graduates will have spent time engaging in and learning about real-life scenarios and expectations. Contact us right away to learn more and get enrolled in one of our courses today!

Call us at
Sign up now and get Clearwater Class Discounts!
Contact us on our website, or call us at 813-922-8657 to learn more. We currently offer our services to residents of Tampa, St. Petersburg, Largo, Pinellas Park, Plant City, and Lakeland.

Invictus Security & Firearms Training Location
Invictus Affiliate School 
7402 N 56th St
Building 300, Suite 385
Tampa, FL 33617
Hours
Monday 8AM–6:30PM
Tuesday 8AM–6:30PM
Wednesday 8AM–6:30PM
Thursday 8AM–6:30PM
Friday 8AM–6:30PM
Saturday 8AM–6:30PM
Sunday 8AM–6:30PM