Allied Barton Security Jobs
Allied Barton Security Job Description: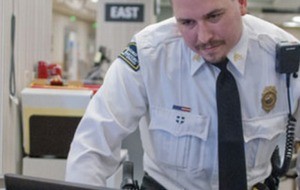 Allied Barton Security Jobs in Palm Beach & Fort Lauderdale. Security Officers are the cornerstone of AlliedBarton Security Services.  Our officers allow us to accomplish our company's core purpose which is "to serve and secure the people and business of our community".  They are responsible for the safety and security of the facilities they protect.  Our security officers act as a visible deterrent to crime and client rule infractions; they detect and report suspicious, unsafe or criminal acts at or near their assigned posts which may be a threat to the property, clients, guests or employees at the site.  Although essential activities may differ based on the facility at which they work, below are some of the standards.
Ensure the facility is provided with high quality security services to protect people and property.
Report safety concerns, security breaches and unusual circumstances both verbally and in writing
Build, improve and maintain effective relationships with both client employees and guests.
Answer questions and assist guests and employees.
Remain flexible to ever changing environments; adapt well to different situations.
Patrol the facility on foot or vehicle.
Answer phones or greet guests / employees in a professional, welcoming manner.
Monitor closed circuit television systems and alarms.
Allied Barton Security Jobs Responsibilities:
Fully embrace security / safety training programs to enhance performance and ability to advance. These may be specific to the security industry or specific to the industry associated with the client you are assigned to secure.
Be aware of and familiar with the site-specific operations performance manual and post orders.
Take additional certification training (as required by some positions) to carry OC sprays, drive bicycles, operate Segways, etc
Qualifications:
(Unarmed Officers) Currently have or the ability to obtain a Florida security D license;
(Armed Officers) Currently have or the ability to obtain a Security G License;
Ability to work in a team-oriented environment with the ability to work independently;
Must be at least 18 years of age or older as required by applicable law or contractual requirements;
Must have a high school diploma or GED, or at least 5 years of verifiable employment history;
Must have at least one verifiable employer.
Ability to communicate effectively in English, both orally and in writing, for the purpose of public interaction and report writing;
Strong interpersonal skills are important as most of our positions require regular interaction with the public;
Successful completion of AlliedBarton's Master Security Officer Basic (Level 1) Course;
Ability to maintain satisfactory attendance and punctuality standard;
Neat and professional appearance.
Ability to provide quality customer service.
Ability to handle both common and crisis situations at the client site, calmly and efficiently.
AlliedBarton Security Services is the industry's premier provider of security personnel to many industries including commercial real estate, higher education, healthcare, chemical/petrochemical, government, manufacturing and distribution, financial institutions, shopping centers and residential communities.  More than 60,000 employees and 120 offices serve thousands of clients with levels of protection that anticipate needs and build enduring relationships.  AlliedBarton is known as the most responsive security services provider and it is our people that differentiates AlliedBarton.   Our focus on learning and development and our leadership culture help our employees grow personally and professionally.
Contact:
Allied Barton Security Jobs: Palm Beach, Martin County, Port St. Lucie & Vero Beach
Linda Koller
District Recruiter | Palm Beach
AlliedBarton Security Services 
2101 Centre Park West Drive Suite 150 West Palm Beach, FL 33409
W: 561.623-5589 | F: 561.697-8564 | 
E:  linda.koller@alliedbarton.com
www.AlliedBarton.com 
Allied Barton Security Jobs: Broward County/ Fort Lauderdale
Noa Gordon-Lerner
District Recruiter | Broward
AlliedBarton Security Services 
600 West Hillsboro Blvd.|Suite 350|Deerfield Beach, FL 33441
T: 954 698-5888|F: 954 425-8275 
E: Noa.Gordon-Lerner@alliedbarton.com
www.AlliedBarton.com