Coconut Creek Needs Security, and Security Needs Invictus for Training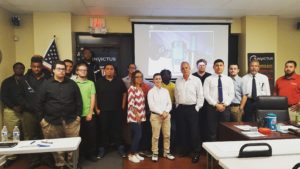 The rising availability for employment in the large job market of Coconut Creek security mandates that all interested workers take a 40 hour security training course. Invictus Security & Firearms Training is the best and only place to go for reliable, interactive training in the entire scope of the security field. To get that valuable security license, students in our security guard training will be shown physical security, access control, first aid, event handling, situational awareness, and an endless range of valuable skills. Those taking our armed security classes will engage in firearms training that is unmatched by any Florida competitor. Our licensed firearms instructors work every weekend showing students mechanical safety and a clean four step draw. Both unarmed security training and class g security license training are crucial to this bustling industry- contact us now to learn more.
Coconut Creek Residents Should Ask About Class Discounts!
Contact us on our website, or call us at 954-271-0138 to learn more. We currently offer our services to residents of Pembroke Pines, Fort Lauderdale, Sunrise, Hollywood, Pompano Beach, Coral Springs, Plantation, Deerfield Beach, Davie, Miramar, Lauderhill, Dania Beach, Weston, Hallandale, and Tamarac.
Invictus Security & Firearms Training Location
Location
Invictus Security & Firearms Training
7100 Pines Blvd Suite 25
Pembroke Pines, FL 33024
954-637-3079
Hours
Monday 8AM–6:30PM
Tuesday 8AM–6:30PM
Wednesday 8AM–6:30PM
Thursday 8AM–6:30PM
Friday 8AM–6:30PM
Saturday 8AM–6:30PM
Sunday 8AM–6:30PM