Brinks Armed Security Jobs in West Palm Beach, Fort Lauderdale & Miami
Armed Security Position-Driver & Messenger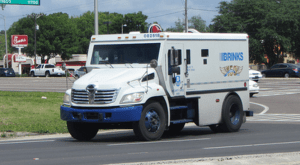 Brinks Armed Security Jobs Description: Brink's U.S., a division of Brink's, Incorporated, is the premier provider of armored car transportation, currency and coin processing, ATM servicing and other value added services to financial institutions, retailers and other commercial and government entities. The company has a proud history of providing growth and advancement opportunities for its employees. We have a challenging opportunity for a Driver/Messenger.
Brink's is an equal opportunity/affirmative action employer and all qualified applicants will receive consideration for employment without regard to age, race, color, religion, sex, national origin, disability status, marital status, protected veteran status, sexual orientation, gender identity, genetic information or history or any other characteristic protected by law. Brink's is also committed to providing a drug free workplace.
Apply to a local Brinks Recruiter

Responsibilities:
• Deliver or pick up and reconcile the valuables at a customer's location
• Maintain radio communication with the vehicle crew and dispatch personnel to ensure a secure transaction
• Maintain the highest degree of security and control of the customer shipment at all times
• Remain alert and prepared at all times, not only protecting the crew or premises against attack, but also watching for the accidental mishandling of packages that might result in a loss
• Reconcile customer deposits and receipts of all valuables handled throughout the daily scheduled run
Brinks Armed Security Jobs Requirements:
• Minimum of 21 years of age
• A valid driver's license and maintenance of a satisfactory driving record
• Satisfy all applicable Department of Transportation requirements
• A valid Florida Armed Security License OR the ability to pass applicable Florida Statewide Firearms licensing requirements
• A valid Florida Security D License OR ability to obtain a Florida D Security License
• Ability to lift at least 50 pounds
Professional Skills
• Excellent ethics and integrity
• Excellent customer service
• High attention to detail
• Ability to work independently
• Professional demeanor
We are an Equal Opportunity Employer and do not discriminate against any employee or applicant for employment because of race, color, sex, age, national origin, religion, sexual orientation, gender identity, status as a veteran, and basis of disability or any other federal, state or local protected class.
Alina Vela
Field Recruiter | Talent Acquisition
Brink's Incorporated